THE ULTIMATE MANSHED WORKSHOP & TOOL SALE LOS ALAMOS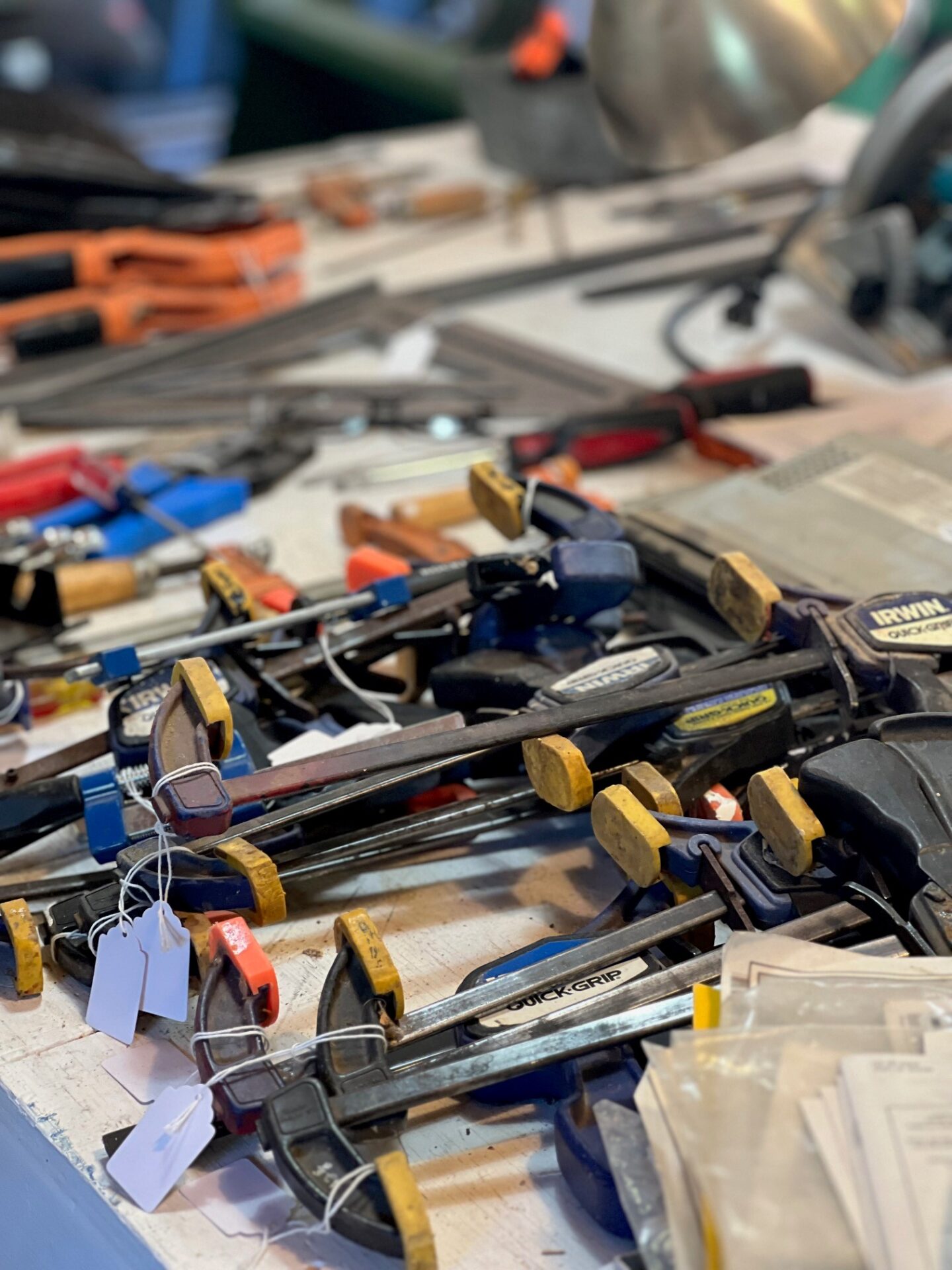 October 13 – October 15
Shop a massive workshop filed with tools, automotive accessories, adventure & nautical items, cars, boat, tractor, ranch items & unique man shed discoveries. 
PREVIEW SALE
Friday. October 13. 2023 
12:00 pm – 2:00 pm  
PUBLIC SALE
Saturday & Sunday, October 14 & 15. 2023
9:00 am – 2:00 pm 
LOS ALAMOS
ESTATE SALE
Workshop
& Tool Sale
___________________
PREVIEW SALE 
Friday . October 13
12:00 pm – 2:00 pm
____________________
 PUBLIC SALE 
Saturday . Sunday
October 14 & 15
9:00 am – 2:00 pm
____________________
 665 Foxen Lane
Los Alamos, California
This enormous, organized and clean workshop on acreage in Los Alamos is an unusual and exciting event for the contractor, hobbyist, handyman (or woman!), do-it-yourselfer, vehicle enthusiast, sportsperson, woodworker, painter, welder, or anyone hoping for all the pieces that will complete their workshop! This long list is only a partial representation of what is offered, and most categories have numerous choices in brands, sizes, and types. Must be seen to be appreciated! Set aside some time to browse it all!
2017 Ford F250 Super Duty Super Cab, XLT Pickup, 8FT, White, 38,905 miles.
2001 Indian Chief Motorcycle, 27,389 miles
NAME BRAND TOOLS (the short list) Makita, Bosch, Ryobi, Craftsman, Milwaukee, DeVilbiss, Worksmith, Black and Decker, Husky, Irwin, Johnson, Rigid, Micronta, SkilSaw, Pittsburgh, Honda, Lincoln, Porter+Cable, TroyBilt and many more.
2003 Ford F250 Super Duty Super Cab, Lariat Pickup, 6.75 ft bed, 154,369 miles. 
JOHN DEERE G110 Riding Mower / Lawn Tractor
2003 Bayliner Trophy Ciera, 23' Cabin Cuddy/Cruiser
| | |
| --- | --- |
| | 357 Magnum inboard/outboard motor. Only 10 hours on newer/replaced motor, good condition overall. Raymarine Radar and Chart Plotter. Below deck Kitchen/Dinette, Enclosed Toilet, Fresh Hot & Cold Water, Suitable for Extended Stay Cruising. Pacific Trailer with Dual Axle with Surge Brakes, Galvanized, Tires in Fair Condition. Plus Many Extras Included. Clean Title for Boat & Trailer |
For the

Nautical Enthusiast
| | |
| --- | --- |
| Mid Century furnishings abound. Charming storage & display options, seating & decor. | |
SPORTING GEAR Archery bows and arrows, 2 bicycles, vintage roller skates, tennis racket, softball and football, scuba tanks, swim fins, spear gun, diving vest, inflatable boat, air pump and oars, Honda Marine 4-stroke outboard motor, dock bumpers, Prep Saver aluminum sleeves, sleeping bags, propane camp stoves, tent, electric and gas camping lanterns, and more!
For all the spouses who have patiently waited at our other events, carried sets of china down stairs, waited in line to buy yet another basket, and struggled to find parking . . . this event is for you!
2003 Ford Thunderbird Convertible 2 Door, 79,225 miles.
POWER TOOLS Honda generator, Craftsman 33 gal. air compressor, drill press, chainsaw, Makita hand saw, multiple grinders/polishers, variety of power sanders, Sawzall, shop vacs, DeVilbiss pressure washer, numerous table saws (Rigid, Makita, Craftsman and more), air brad nailer, portable engine starter, electric drills and many sets & types of drill bits, circular saws, router, Lincoln arc welder, welding tanks.
JOHN DEERE tractor and selection of implements: 1026R MFWD compact tractor w/loader & mower deck, 25hp, 3 cylinder diesel engine, 4 wheel drive. 337 hours, good condition.  
GARDENING shop a wall of varied garden hand tools such as rakes, shovels, pitch fork, hose, tree trimmer, a string weed trimmer, Troy-Bilt TB110 power mower with bag attachment, John Deere G 110 lawn tractor, watering cans, wheel barrows, leaf blowers, statues, benches, fertilizer spreaders, sprinklers, and more for every gardening chore.
HAND TOOLS Massive choices of screwdrivers, hammers, crescent wrenches, open and ring wrenches, 12+ handsaws of many types and sizes, torque wrenches and torque meters, soldering gun, chisels, vice-grips, mallets, bolt cutters, pliers, wire cutters, staple guns including Powershot forward staple gun, large Johnson level, large aluminum measuring sticks and squares, hydrometer, tape measures, Micronta and other multi-meters/voltmeters, plumber's snake, bar clamps, pipe clamps, Quick-Grip clamps, all from small to very large, paint brushes, rollers, putty knives, plaster trowels, caulking guns and other prep & painting supplies.
WORKSHOP BASICS Numerous workbenches, shelves and cabinets of varying sizes and materials lining the walls some with vices, tall aluminum ladders, step stools, portable work stands, extension cords, large tabletop Craftsman tool boxes, plastic saw horses, metal utility sink, tarps, tie downs including new sets, heavy plastic crates, gas can, area heaters, lumber, dowel and
plywood remnants, pvc pipe, mover's dollies, jack stands, floor jacks, and numerous tabletop nuts & bolts organizers filled with components.
UNEXPECTED DISCOVERIES Replica Harley Davidson motorcycle table lamp, Indian motorcycle parts, vintage motorcycle leather saddle bags, vintage license plates, various vintage and modern signs and posters for those garage walls, good selection of motorcycle helmets, Pingel motorcycle lift and motorcycle floor jack, vintage beer crate, outdoor furniture, pair of wine barrel stools, and fascinating memorabilia mixed into the practical.
REVIEW
TREASURED ESTATES
Your Estate Sale Concierge!
Enjoy our Estate Sale events?
Had a pleasant experience with one of our Team Members?
Found an instant heirloom at the sale that made you smile?
Please Post a Google Review
& Share Your Thoughts
We appreciate our loyal customers!
 #TREASUREDESTATES
THERE IS MORE TO SEE!
Follow our socials for daily updates. 
 

COUPON

Loyal Customers

TAKE 10% OFF

One Item. Valid

October 13 & 14, 2023

Motor Vehicles Excluded

 

 
THE ROUTE
665 Foxen Lane, Los Alamos
SAVE THE
ESTATE SALE DATES
We Are Passionate About
Exceptional Estate Sale Events!
ANNUAL BARN & GARDEN
ESTATE SALE
PREVIEW SALE
Friday . October 27
12:00 pm – 2:00 pm
PUBLIC ESTATE SALE
Saturday . October 28
9:00 am – 2:00 pm
Shop a massive outdoor area filled with
barn relics & architectural finds, vintage garden items & courtyard statuary, potted plants, ranch items & unusual discoveries!
"ALL THAT GLITTERS"
ESTATE JEWELRY SALE
SOLVANG
PREVIEW SALE
Wednesday . November 1
12:00 pm – 2:00 pm
PUBLIC ESTATE SALE
Thursday . November 2
through
Friday . November 10
9:00 am – 2:00 pm
Featuring the extraordinary collections
of three prominent Estates with several
hundred pieces offered for sale.
SOLVANG
HOLIDAY ESTATE SALE
PREVIEW SALE
Friday . November 10
12:00 pm – 2:00 pm
PUBLIC ESTATE SALE
Saturday . November 11
9:00 am – 2:00 pm  
A seasonal shopping event filled with décor, gifts, fine jewelry & objets d'art found only
at Treasured Estates. 
PREMIER PROPERTIES
THE RIGHT TEAM MAKES
ALL THE DIFFERENCE
A boutique real estate brokerage with a team of agents, designers & strategists dedicated
to the success of each client.
PENDING SALE
1073 Fredensborg Canyon Road
Solvang
JUST SOLD
84 Manzanita Drive, Solvang
Congratulations
to Shannon & her team
for another successful transaction!
JUST SOLD
211 Deming Way
Buellton
Congratulations
to Shannon & her team
for another successful transaction!
SHANNON COLLISON
Realtor CDRE 00498188
___________
Over 40 Years of Dedication
to the Sale of Real & Personal Property
_________
PUT OUR TEAM
TO WORK FOR YOU!
AT THE HELM Treasured Estates Premier Properties is headed by our very own Shannon Collison, Realtor CDRE 00498188, member, National Association of Realtors ®, California Association of Realtors ®, Santa Ynez Valley Association of Realtors, Santa Barbara Association of Realtors.
TEAM DEDICATION By merging our exceptional estate sale services with Shannon's residential properties experience, our clients benefit from our broad experience combined with intimate local insight. Our personalized approach, reputation, and extensive network afford us the knowledge and access to numerous off-market properties.
EXCLUSIVE BENEFITS FOR BUYERS & SELLERS  
Our innovative marketing and sales approach creates a recipe for success. Let our dedicated in-house team provide professional staging and photography to make your property look its very best. Our streamlined process allows us to offer complimentary curating and customized personal property management. Receive preferred rates with a number of our home design providers.