SOLVANG POP-UP ESTATE SALE The Spring Design Sale
May 6, 2022

-

May 22, 2022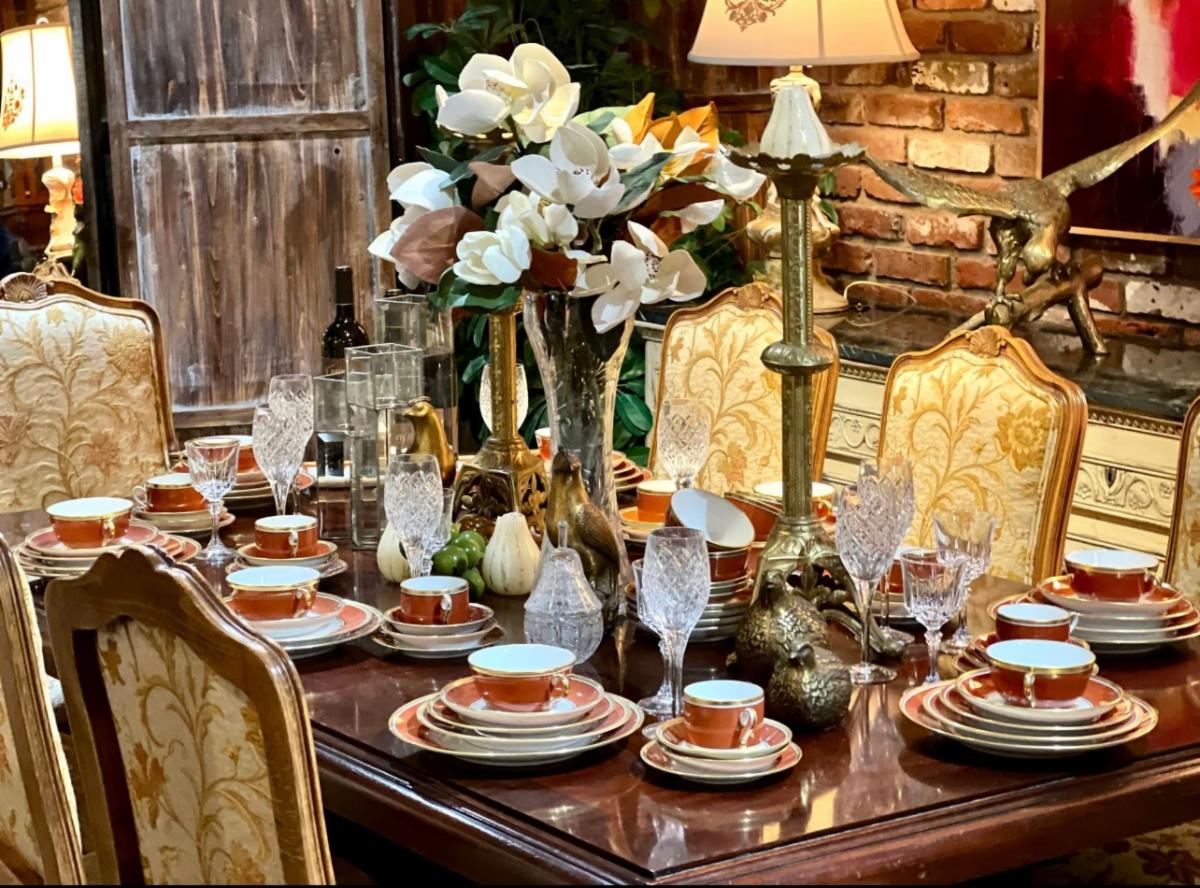 STORE HOURS
An Extended
Estate Sale Event
May 19th – 22nd
Thursday – Sunday
10:00 am – 3:00 pm
1693 Copenhagen Drive, Solvang
(next to Rasmussen's)
1693 Copenhagen Drive, Solvang
Immerse yourself in exploring a curated visual
feast – over 3,000 square feet – absolutely
filled with every category of personal, home,
artistic, and garden finery, plus masses of
exquisite jewelry, all with an extraordinary flair.
ITS HARD TO SAY FAREWELL . . .
But 25% – 50% off Makes it a Bit Easier!
Thursday & Friday – take 25% off *
Saturday & Sunday – take 50% off *
*Exclusions apply, not valid with any other promotions,
Renaissance Antiques' items &
fine estate jewelry excluded from sale
Stunning Tea and Coffee Service
One of the most historic patterns by Christofle of Paris, "Malmaison" typifies the Empire style, with its frieze of delicate palm and lotus leaves and symmetrical design.
Join Us For The Final Week
Dining chairs, end tables,
cabinets & accent pieces full of potential
 

A guide to the latest discoveries & happenings at Treasured Estates
Baby Grand K. Kawai Piano
For 90 years, Kawai has earned a reputation for outstanding quality and workmanship in the crafting of world-class musical instruments, and has received over 50 major international awards for product and service excellence. Kawai's technology provides outstanding touch and tone that is valued worldwide for its sensational stable quality.
DREAM WEAVER
a sumptuous, custom, dark chocolate mohair and leather wrapped sofa with accent pillows. Good design never goes out of style . . .
STEPPING INTO STYLE
a vibrant salute to one-of-a-kind furniture & decor brimming with color & imbued with charm!
If you have reveled in the extravagant open displays of fine fashion jewelry, there are two more large boxes to unpack this week, plus a tall case full of fine estate and modern jewels – in every category and price range.
Does beautiful china still intrigue you? We have Wedgwood, Ralph Lauren, Sone black & gold china of Japan, Haviland Limoges, Royal Doulton, and 2 sets of coveted Fitz and Floyd: Classique d'Or, and Audun Ferme.
Rustic and Ranch choices: a great wood paneled free standing bar with service area in back, a heavy hand hewn feed trough and handmade feed buckets good enough for interior décor, a good condition saddle, and equine décor, books, sculptures, and art throughout the shop. Line your ranch or your villa bookshelves with period antique leather-bound books and sets for reading or decorating. Consider one of the many unique large to monumental hand made trunks and coffers – also a one of a kind pair of tall door panels – with stunning details and hand forged hardware – for storage, for furniture, for grand décor – Asian, Continental, English, Spanish Colonial influenced, and more.
A great pair of antique Asian altar tables, that also make great buffets and console tables in transitional décor, plus a pair of modernist console tables that should not be overlooked by the contemporary decorator. Tall and handsome Henredon black Chinoiserie collector's cabinet that doubled as a fine bourbon bar in a past life! Two tall free-standing panels of an Asian open-carved screen just yearning for a great room in need of an area divider.
Wide selection of fine art – the soul of a home – from large colorful abstracts, to smaller fine landscapes, floral still lifes, Oak Group plein air paintings, two Thomas Kinkaid pieces, a nocturne of Santa Cruz island ranch house, and more modern and vintage selections.
Freshen a bedroom with a new focal point: French upholstered and carved headboard, Ralph Lauren bed, and a great iron bed. Lamps abound! Pairs of buffet lamps, floor lamps, table lamps, bedroom lamps, in export porcelains, mercury glass, wood and brass, and dozens more choices. Add light and add style!
While taking in all the visual stimuli, do not miss the great selection of rugs under your feet – in all styles and shapes: modern and contemporary in wool and natural plant fibers, vintage Persians, handwoven Kilims, rich colors, room sized, runners, muted tones. Look down!
Excellent choices in round centerpiece style tables, great for entries, breakfast nooks, or a spacious corner to add polish to a room. Accent tables such as side tables, writing tables, small desks, bedside tables, so many options! And mirrors: art metal framed, convex mirror in classic round black frame, ornate round gilded mirror, grand wall mirrors, styles and sizes for any home. Style + reflected light = beauty!
A classic high gloss black baby grand K. Kawai piano and bench; an ultra-luxe, deep, down-filled espresso mohair and leather sofa you can live in! Two French vanities – one with lift top mirror, the other charmingly hand painted, set of 4 bentwood bar seats, a tall silver storage chest, a fascinating set of Siamese silver serving pieces, large upholstered ottoman, chairs and chairs and chairs! Dining, wingback, throne style, leather "lift" chair, upholstered beauties, pairs, sets…nothing like a satisfying chair upgrade! Nesting tables, leather top writing table, mid century Nixon-era writing desk, Art Deco style architectural desk, several bookshelves – can one ever have enough? A range of decorative throw pillows from bold to elegant to subtle for refreshing a sofa, bed, or bench.
Quality select drapery panels in silk, damask, polished cotton, and embroidery. Duvets, duvet covers, quilts including handmade quilts, blankets, and everyday useful textiles, too.
Three thousand feet of estate offerings
still filled to capacity! Shop while the
selection is still strong and deep!
 

Oil on canvas by Mark Dickson, Untitled Abstract

A

 

Dickson is devoted to making art that is all about color, form & light.
THE MUCH – ANTICIPATED
2
DAY HALF PRICE SALE
TAKE 50% OFF SATURDAY & SUNDAY*
 

 

 

 

Contemporary Cross Over Diamond Ring

 

 

 

 
Authentic vintage & contemporary items
collected over a lifetime with the
utmost care & thoughtfulness
K
itchen & Dining Selections Simply Sparkle
with Style, Color & Welcoming Warmth
Extraordinary china sets now on sale!
Oil on canvas by Ralph Waterhouse (1943 – ), Eucalyptus at Sunset, dated 1990, gilt presentation frame, 30″ x 15″, good condition.
RUSTIC IN ALL THE RIGHT PLACES:
C
arved & paneled Mission inspired bar cabinet.
Heavy Mexican Sterling Silver Beverage Set – with all the right marks, and swoon-worthy hand crafted styling that makes us long for a soiree worthy of these beauties!
Thursday & Friday – take 25% off *
Saturday & Sunday – take 50% off *
*Exclusions apply, not valid with any other promotions,
Renaissance Antiques' items &
fine estate jewelry excluded from sale
 

Extensive collection of costume jewelry!

Hundreds of never-worn pieces: Sparkling silver / cubic zirconium necklaces, bracelets & earrings just made for a wedding, prom, or special evening, hundreds of interesting stone, wood, brass, & sterling fashion bracelets, vast selections of beaded necklaces, pendants, countless elegant & fun rings in every price category including semi-precious stone designs, wide variety of fashion earrings, literally thousands of pieces.

New choices displayed throughout the event

Fine jewelry choices include rings, pendants, earrings, and bracelets, in sapphire, emerald, pearl, opal, coral, diamond, citrine and gold – modern, vintage, and Edwardian designs. 
FOR THE GARDEN:
Charming white iron table & chairs, large potted plants, indoor/outdoor rugs, a continental inspired concrete composite round table & curved benches, stools, pair of wood slat benches with iron frames & figure head arms, cast iron Japanese garden lanterns.
 

A vast selection of timeless interior goods fill the sale with culture, beauty & history!
Pastel by Glenna Hartmann (1948-), Misty Dawn Santa Cruz Island, dated 1992, 17″ x 8″
Forget supply chain issues &
Shop an exclusive Estate Sale Event
filled with endless wonders
Found Only at TREASURED ESTATES!
 

 

Princess Diamond Earrings

 

 

 

 

 

 

 

Stunning Pearl & Diamond Ring

 

 

 

 

 

Sonia B Modernist Sapphire Ring

 

 

 
Estate Jewelry Selections Available
 

 

 

May 19th – 22nd Thursday – Sunday

 

10
Extraordinary Design Flair…
Explore Fascinating Décor
That elusive "finishing touch" you've been seeking may be waiting for you here: impressive selection of Chinese inlaid accent pieces, enameled cloisonné, fine Asian export porcelains, curiosities, antique copper pots, bins, trays, and buckets, old ranch collectibles, African wooden art masks with brass appliqué, bone inlay, and decorative patterning, wonderful boxes, figures, paperweights & quality faux flowers & greenery.
Sustainable Spring Fashion
Share Your Favorite Estate Sale Finds! 
We are thrilled to feature numerous items from the iconic
Renaissance Antiques. Widely renowned – literally worldwide! – for their superb collections of high end antiques (especially rare clocks, watches, and fine music boxes), their encyclopedic knowledge, and their keen eye for treasures, Ron and Julie Palladino are the reason many loyal customers have repeatedly made the trip back to Solvang … for 47 years!  Entering the doors of Renaissance Antiques is genuine enchantment, and a portal to a more romantic and beautiful world.
 

SHOP THEIR

EXTRAORDINARY

ITEMS

at the Pop-Up Estate Sale
East from Buellton HWY 246 / Mission Drive

Turn right on Alisal Road

Destination corner of Alisal Road & Copenhagen Dr.

Park in the Alisal Public Parking Lot
1693 Copenhagen Drive . Solvang . CA
We are passionate about offering
exceptional Estate Sale Events!
Saturday Only, May 28. 2022
The Annual Barn & Garden Estate Sale
Shop a massive outdoor area filled
with barn relics & architectural finds,
vintage garden & courtyard statuary,
potted plants, ranch items & unusual finds!  
The Real & Personal Property of a prominent Lady, featuring Mid Century Modern furnishing & exuberant collections thoughtfully filling this massive Estate!
Featuring the property of a prominent Estate
filled with worldly collections that create a
natural elegance inside & out!
A boutique real estate brokerage with a team of agents, designers & strategists dedicated
to the
success of each client
STUNNING LOS OLIVOS FARMHOUSE
ON CORNER LOT – LISTED THIS FRIDAY!
517 Aebeltoft Way. Solvang
1580 Monarch Drive. Santa Ynez
Over 35 Years of Dedication
to the Sale of Real & Personal Property
AT THE HELM
 Treasured Estates Premier Properties is headed by our very own Shannon Collison, Realtor CDRE 00498188, member, National Association of Realtors ®, California Association of Realtors ®, Santa Ynez Valley Association of Realtors, Santa Barbara Association of Realtors.
TEAM DEDICATION 
By merging our exceptional estate sale services with Shannon's residential properties experience, our clients benefit from our broad experience combined with intimate local insight. Our personalized approach, reputation, and extensive network afford us the knowledge and access to numerous off-market properties.
EXCLUSIVE BENEFITS FOR BUYERS & SELLERS 
Our innovative marketing and sales approach creates a recipe for success. Let our dedicated in-house team provide professional staging and photography to make your property look its very best. Our streamlined process allows us to offer complimentary curating and customized personal property management. Receive preferred rates with a number of our home design providers. 
www.TreasuredEstatesPremierProperties.com