SOLVANG ESTATE SALE
May 5, 2021

-

May 8, 2021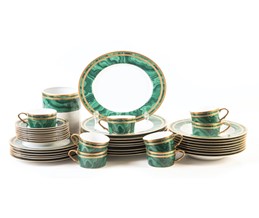 NOTICE: Special Parking Instructions for Friday & Saturday!
Please park on Alisal Rd. just south of the Entry Gate and the Parking Attendant will admit you once parking at the Estate  is available. If that area is full or you prefer not to wait, please park along Fjord Drive (off Alisal Rd on north side of the river)  and take our Shuttle Service to the Estate.
Preview Sale Date: Thursday, May 6, 2021, 12:00 pm – 2:00 pm.
Public Sale Dates:  Friday & Saturday, May 7 & 8, 2021, 9:00 am – 2:00 pm
Address: 546 Rancho Alisal Drive, Solvang
Featuring the collections of a prominent lady!  Shop this sophisticated, worldly interior with collections that will surprise and delight!
Social distancing and mask protocols will be observed, attendance will be limited, and the collections will be offered in an indoor / outdoor setting.
546 Rancho Alisal Drive, Solvang
This spacious estate in the bucolic Alisal Ranch is a testament to its owner's personal passions, love of design detail, and a
century of fine family acquisitions. The juxtaposition of lux antiques with fresh art, furniture, and modern accents is a constantly stimulating blend that activates the imagination. 
With Memorial Day around the corner, it's the perfect time to shop this week's selection of chic outdoorsy décor!
Ready to be Seated? Right This Way . . .
A love and knowledge of the treasures of early family generations is the soul of this estate, with seldom seen early 20
th
c furniture – such as an eye popping Adams satinwood finely embellished dining table which, with all 4 leaves utilized, seats 28! Plus the gorgeous matching console server with marble top! 
We have sourced wonderful ideas for Mother's Day
or simply treat yourself or someone you love . . .
Portraiture from Edwardian era family hangs near a grand modern sofa; contemporary kitchen appointments coincide with extra-fine antique porcelain and china; fresh lighting design coexists with delicate French porcelain vanity lamps; a polychromed vintage ivory dresser and matching vanity with skirted stool happily share space with a modern upholstered bed and lounge chair.
A kitchen filled with fine china including the coveted George Briard "Imperial Malachite" china set, Minton, Copeland Spode, and more, a myriad of gorgeous crystal decanters, many with silver liquor tags, hollow stem champagne glasses, etched antique wine glasses on black bases, candlesticks, fine trays in silver, pewter, acrylic, and enamelware, flatware, good cookware and bake ware, small appliances, dozens of utensils, serving pieces, casseroles, cookbooks, a Limoges porcelain breakfast set (serve breakfast in bed on Mother's Day with this and watch her eyes shine!), great serving bowls in glazed pottery and painted stoneware, demitasse sets, cabbage motif sets of plates, the practical and the beautiful side-by-side.
FOLLOW US ON FACEBOOK & INSTAGRAM
There is more to see! Watch our stories for highlights!
A bright white porch swing with colorful lime green cushions, and a pair of white wicker garden rockers; handsome black and white painted oriental fishbowl on wood plinth with glass tabletop, unusual Victorian mirrored and painted fire screen – a fascinating décor piece – and a charming vintage glass chandelier with small drum lampshades, a pair of Baccarat crystal horse heads and seated dog, pair of lipstick pink upholstered boudoir chairs beautifully upholstered, large fringed Turkish textile, large brass resting stags, vases, and décor in many styles and periods.
Miami Sun adult trike with carrying baskets front
and rear, garden tools and implements.
Parisian couture ball gown by J. Berle, Circa 1980's.
Accessories available at the estate sale.
IMAGINE . DISCOVER . REFRESH
More than just a pretty find . . .estate sales power a circular economy, that's better for our planet! Shop one-of-a-kind sustainably chic vintage finds online or in person with Treasured Estates!  
Think of Treasured Estates as
At Your Service! Are you looking for amazing artwork,
but need a bit of guidance? Let our talented
Mixed media by Gertrud Antoine Barwick
(20th Century), The Bloom, 18″ x 18″.
A finely made mid-century tall dropleaf secretary bookcase / desk / cabinet concealing 9 drawers, 8 cubbies and a lockable compartment; a fine trumeau mirror in gilt frame
with an oil painting of female saint above; a petite
drop leaf writing desk fully painted in Asian
style with luxurious red leather interior;
two exquisite gilt wall mirrors with fine detail, and
a tri-fold tall dressing mirror in gilt frame.
#TreasuredEstates to share your favorite
Grandmother's set of caned, detailed bedroom
furnishings including kidney shaped desk with
galleried top, petite armoire with caned doors, and elaborate dresser with oval mirror, plus a vanity display filled with sterling silver grooming and toiletry items of a delicacy and charm not seen today; and a grand vintage king size brass bed beautifully styled with pale blue and rose linens. 
Two large closets filled with women's contemporary sportswear, formal wear, outerwear, fascinating vintage and antique items, and haute couture pieces from important designers. Also shoes, decorative belts, handbags, scarves, and a hat lover's hats. A world unto itself – allow time to explore!
Vintage Oscar de la Renta sequin and lace top.
Accessories available at the estate sale.
Silk ball gown by Haulinetrigere.
Accessories available at the estate sale.
Fashion and fine jewelry choices by the dozens in spirited and unusual necklaces and bracelets, a selection of watches and brooches, and fine jewelry including vintage and antique pieces.
Vintage couture silk dress and jacket by Galanos.
Accessories available at the estate sale. 
Outdoor delights include items of deep comfort and whimsy in the garden and pool area: a contemporary outdoor "espresso" wicker garden set of 4 curved, cushioned settees and round table plus storage chest, a darling white and red chicken coop, large selection of whimsical near life sized tin garden animals, outdoor patinated bakers rack, three great raised corrugated metal planters on iron frames, wicker chairs and settee, garden stool, tiered fountain, iron and mirrored wall décor, and a selection of rusted iron sculptural art pieces for the flowerbed or lawn.
Other finds: Traeger D2 Direct Drive wood fired pellet grill in great condition, a LG inverter direct drive HE washing machine and LG sensor HE dryer in gunmetal grey, a pedal "trike" with carrying baskets front and rear, garden tools and implements, holiday décor, the vast library of an avid reader: quality hardbound books including contemporary fiction and history, art, classics, children's books and antique books.  
Treasured Estates &
The Virtual Estate Sale
We make shopping for vintage furniture & décor simple, streamlined, and easy! Shop our exclusive Estate Sale Events in privacy and peace, right from your own device, and we will provide a full service, secure, trustworthy environment.
Offering exquisite finds and story worthy rarities available only as long as they last…
about offering exceptional Estate Sale Events!
From HWY 246 / Mission Drive.
Turn South on Alisal Road.

Turn left on Rancho Alisal Drive.
Parking Instructions:
 Please see the Parking Attendant. Parking is only permitted on one side of the road to allow for emergency vehicle access. 
This is a private gated community, with specific parking instructions. Attendees are guests of the Alisal Ranch and must adhere to all parking instructions, or they will not be allowed to participate. 
Please park respectfully with regard to both sale attendees and neighbors.
546 RANCHO ALISAL DRIVE, SOLVANG, CA 93463
A Special Coupon for our Loyal Customers 10% Off One Item
Valid through
May 8, 2021
SAVE THE ESTATE SALE DATES
Saturday & Sunday May 22 & 23 2021
Featuring the exceptional contents of a magnificent Solvang Estate.
Endless beauty from contemporary to old world provincial treasures.  
Social distancing and mask protocols will be observed,
attendance will be limited, and the collections
will be offered in an indoor / outdoor setting.
Tuesday June 1 – Sunday June 6 2021
Featuring vintage and contemporary haute couture clothing & accessories. The contents of three prominent collections to be offered at this event, filling the Treasured Estates Private Penthouse to capacity. 
Social distancing and mask protocols will be observed.
Attendance will be limited in accordance with CDC guidelines in effect at the time, and advance reservations are required. 
Monday June 21 – Monday June 28 2021
Featuring an online, virtual estate sale of unique décor, artwork, furniture, rugs and home decoration from early to mid 20th century. Virtual catalog will be sent to participants on Monday, June 21st, 2021.  
Preview in person by advance reservation.  Purchase online and pick-up curbside in Solvang at the Treasured Estates Showroom. Social distancing and mask protocols will be observed.
THE RIGHT TEAM MAKES ALL THE DIFFERENCE
A boutique real estate brokerage with a team of agents, designers, and strategists dedicated to the
AT THE HELM
 Treasured Estates Premier Properties is headed by our very own Shannon Collison, Realtor CDRE 00498188, Member, National Association of Realtors, California Association of Realtors, Santa Ynez Valley Association of Realtors, Santa Barbara Association of Realtors.
THE DREAM TEAM 
By merging our exceptional estate sale services with Shannon's residential properties experience, we offer the client local market expertise and unique services to optimize the market positioning of the properties we list for sale. 
EXCLUSIVE BENEFITS FOR BUYERS & SELLERS 
We offer a dedicated in-house marketing team that provides professional staging and photography to make your property look its very best. We simplify the process with complementary curating and customized personal property management. Receive preferred rates with a number of our home design providers.