ENCHANTING SANTA BARBARA ESTATE SALE
August 25, 2022

-

August 28, 2022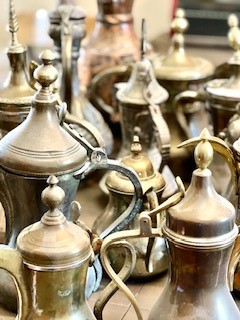 PREVIEW SALE
Friday. August 26. 2022
12:00 pm – 2:00 pm
PUBLIC SALE
Saturday & Sunday
August 27 & 28. 2022
9:00 am – 2:00 pm
Featuring the collections of a prominent Santa Barbara Estate filled with worldly treasures collected over several continents and generations.
Santa Barbara, California
Within this stylish Santa Barbara foothills neighborhood, a sparkling white home filled with the curated collections of a family of world travelers – all against a backdrop of immaculate modern furnishings & heirlooms perfect for any contemporary or tastefully
traditional home. Source focal point accent pieces that add rich layering to your nest from Singapore, Hong Kong, Bangkok, Tehran, Ryadh, London, central Europe & Africa…sprinkled with a touch of the romantic &
more than a little luxury! 
Venetian Art Glass Chandelier, Murano Venezia
Timeless Sophistication with Au Courant Charm
Set of Aynsley English China, Cottage Garden
The traditional Arabic/Bedouin coffee pot known as the Dallah, or Al-Dallah
, may be made of brass, steel, silver or even gold, and has a bulbous body to a small waist with a hinged, pointed lid topped by a tall finial. It is marked by a crescent shaped, beak-like open spout so the coffee may be seen while served. Usually engraved with patterns or story scenes, it may also carry the seal and name of the maker.
Dallah have existed for centuries and possibly date to pre-Islamic times
, being brought to the Levant by the Ghassanid tribe in the 3
rd
century. It is used to both boil and serve Qahwa, Arabic of "Gulf" coffee, or Khaleeji, a spiced coffee often made with cardamom or saffron, and enjoyed at festivals, births, marriages, and rites of passage. So central is the Dallah in the Arabic world that even today it is seen in public art, on coins, watermarks & bank notes.
The Thomasville Sectional Sofa
Lighting:
Magnificent Venetian art glass 8 – light multi-colored, flower embellished glass chandelier purchased in Murano Venezia, with certificate of authenticity; MacKenzie-Childs whimsical painted wood floor lamp; pottery crock table lamp with blue linen shade; 2 Tiffany-style stained glass lamps; stone orb table lamp with faux hide shade; delicate antique brass boudoir lamp with exquisite tiny porcelain flowers & gold silk pleated shade; turned wood flower decorated floor lamp; Art Nouveau style blue glass bedside lamp; buffet lamp of stacked amber acrylic orbs; clear glass table lamp containing seashells; tall antique brass table lamp in the form of ancient Greek scholar.
Coveted Worldly Collectibles
Follow us on Facebook and Instagram
International Treasures:
Over 20 handmade wool & silk area rugs in astonishing condition from Saudi Arabia, the Caucasus & beyond, in a vast variety of shapes, colors and patterns, including a number of rare and fine examples mounted as wall hangings; large collection of stunning brass Arabic/Bedouin Dallah open-spout coffee pots in every size; a satisfying handmade set of antique wood graduated bowls with flat handles & braided leather straps; 2 amazing folk art carved child-sized wooden carts with stamped brass decoration; ornate Persian hookah water pipes; handmade leather camel pannier, camel bells, figures, art, & camel furniture embellishments; fascinating child's antique middle eastern/Turkish shoes; numerous Russian lacquered boxes and decorative eggs on stands; Morroccan style artisan handmade basketry in varied sizes; handmade ethnic pillows, some with antique rug remnants plus a grand alpaca pillow; folk art carved child's bench; large collection of Asian japamala prayer beads and unusual rosaries; Chinese export porcelain fish bowls; wildlife etched large gourd; animal hide jars with leather seals; fused blue and green glass "flying carpet" on iron stand; original Chinese watercolor on rice paper of elder and small boy; unusual ethnic folk art animal figures; intriguing octagonal hardwood cylinder table embellished with brass inlays, and wood planters of carved intertwined camel figures.
FURNISHINGS:
Pared-back Silhouettes & Timeless Appeal . . Thomasville L-shaped sectional sofa with coordinating pillows in subtle color blend chenille; Thomasville chocolate and sage chair-and-a-half with ottoman; inviting hardwood hallway/entry bench with X back splats; Thomasville plush swivel armchair and ottoman in neutral stripe; Thomasville leather club chair recliner; ebonized and embellished Chinoiserie credenza / buffet; 2 tall lighted glass and wood display / china cabinets, one modern and one antique with beveled glass panels; 3 sets of bar / counter stools: 2 pairs, plus one set of 5; ivory damask camel back sofa with lovely carved frame and matching plush armchair; Edwardian carved and tufted sofa in pale rose satin; grand king bed in polished brass and onyx frame; lovely provincial style family heirloom dining table with 3 extensions and 8 chairs in striped velvet; contemporary matching display-style coffee table and matching side table with glass tops and sides; 2 round, contemporary hardwood dining tables on central pedestals, Vanleigh cedar chest; knotty pine hutch; modern stainless and glass L-shaped office desk and ergonomic office chair; outdoor wicker sofa with full set cushions and matching glass top coffee table in great condition; velvet upholstered Victorian parlor chair; eye-catching rectangular hardwood aromatic chest with Asian style brass hardware & so much more!
Handcrafted Treasures From Around the World
Oil On Canvas by Bruno Pigalle (1933-), Study of Venice
DECOR:
Oil painting of Venetian canal scene in gilt frame; impressive collection of Swarovski miniature crystal and brass "Crystal Memories" in delicate lighted glass and brass vitrine; a selection of Amish, antique and modern quilts & quilt racks; Lladro & other fine decorative figures; quality faux Christmas tree and lacquered hand made selection of ornaments; faux floral arrangements; outdoor planters in glazed ceramic and concrete; two display cases of demitasse spoon collections from around the world; pottery, art glass, vases, candlesticks, handblown glass paperweights, extensive collection of gorgeous scent bottles, worldly curiosities & remarkable objets d'art.
Forget supply chain issues &
Come shop an exclusive Estate filled with
endless wonders & unique offerings . . .
Found Only at Treasured Estates!
Thomasville Chair & Ottoman
Upholstered in Chocolate Windowpane Plaid
ALSO OF INTEREST:
Large collection of fine perfumes, skin care, cosmetics & imported soaps; quality small dog accessories including collapsible pens & crates; excellent choices in fine down pillows and comforters, plus household linens & soft goods; flat screen televisions & wall mounts; Vibe 2-seat stroller; a good selection of quality vacuums and various useful household & garden items. 
FOR YOUR NEXT PROJECT – NEW IN THE BOX
Restoration Hardware Kempton Oak Washstand
A Space-Saving Silhouette 
The Callum Bunk Bed by Restoration Hardware
Kitchen. Dining. Entertaining:
Extraordinary delights for the cook and entertainer: a more-than-complete set of Villeroy & Boch fine china in the enchanting French-inspired "Jardin d'Alsace Fleur / Auberge / Villages" pattern, with a vast array of major serving pieces; Aynsley English bone china set in the bucolic "Cottage Garden" pattern with enough special serving pieces for your grandest Thanksgiving dinner; famed Christofle silver flatware service for 8; Christofle silver tea set and tray; set of 24 Villeroy & Boch "Bernadotte" pattern fine faceted crystal stemware for water, red, and white wines; Judson / Sheffield knives and serving pieces with love-at-first-sight finely painted porcelain handles; Dansk stainless flatware; art glass champagne saucers; quality cookware and bakeware; small appliances; decorative serving bowls and pottery; all manner of stemware and glassware; brass, pewter, copper, Pyrex, wood, crystal in varied forms, masses of utensils, kitchen tools & storage containers.
Large Set of Villeroy & Boch
Jardin d'Alsace Fleur/Auberge/Villages
CHRISTOFLE France – Marly Tea & Coffee Service
CLOTHING & ACCESSORIES:
An entire room filled
with large racks of fine women's clothing! Shop Escada, Vera Wang, St John, Eileen Fisher, Johnny Was, Sonia Rykiel & other favorite designers!
 

Coveted Collections by Mackenzie – Childs
Share Your Favorite Estate Sale Finds! 
A Special Coupon for our Loyal Customers 10% Off One Item
Valid through
Aug 27, 2022
FOR LEASE IN RANCHO SAN ANTONIO
Early Access! Inquire About Leasing
This Exceptional Property
We are passionate about offering
exceptional Estate Sale Events!
EXTRAORDINARY ORCUTT VILLA
*Selected Contents Offered for Immediate
Purchase via the Virtual Catalog
Friday. September 2nd 2022
*Entire Contents Offered for Sale
to Treasured Estates Clientele Only
September 16th & 17th 2022
JOIN THE MAILING LIST TO ATTEND & SHOP
Friday. September 23rd 2022
September 24th & 25th 2022
Featuring the exceptional property of a
prominent Lady, whose collections
will enchant and delight!
CAPTIVATING SANTA BARBARA
Featuring the contents of a beautifully furnished
quintessential Santa Barbara Estate!
Friday. October 21st 2022
Saturday. October 22nd 2022
Featuring the contents of an Orcutt Estate
filled with contemporary furnishings,
décor & all things lovely!
Friday. October 28th 2022
Featuring the property of a prominent Estate
filled with worldly collections that create
a natural elegance inside & out!
F
riday. November 4th 2022
Featuring the contents of a massive
Santa Maria Estate filled with
contemporary & antique furnishings!
Saturday. October 15th 2022
Shop a massive outdoor area filled with barn
relics & architectural finds, vintage garden 
items & courtyard statuary, potted plants,
ranch items & unusual discoveries!
F
riday. November 18th 2022
November 19th & 20th 2022
Featuring a capsule collection of unique estate offerings, seasonal decor, fine jewelry, couture & more! Let the holiday shopping season commence!
A boutique real estate brokerage with a team of agents, designers & strategists dedicated
to the 
success of each client!
975 Paseo Los Santos, Santa Barbara
1512 Oakridge Park Road, Santa Maria
1823 Laurel Avenue, Solvang
290 Bradley Avenue, Morro Bay
2202 Point Sal Loop, Lompoc
512 E. Locust Avenue, Lompoc
2490 Park Street, Los Olivos
EXPERIENCE, STRATEGY, RESOURCES
& THE FULL-TIME TEPP TEAM!
(805) 688-7960 . (805) 451-3999