CHARMING SANTA BARBARA ESTATE SALE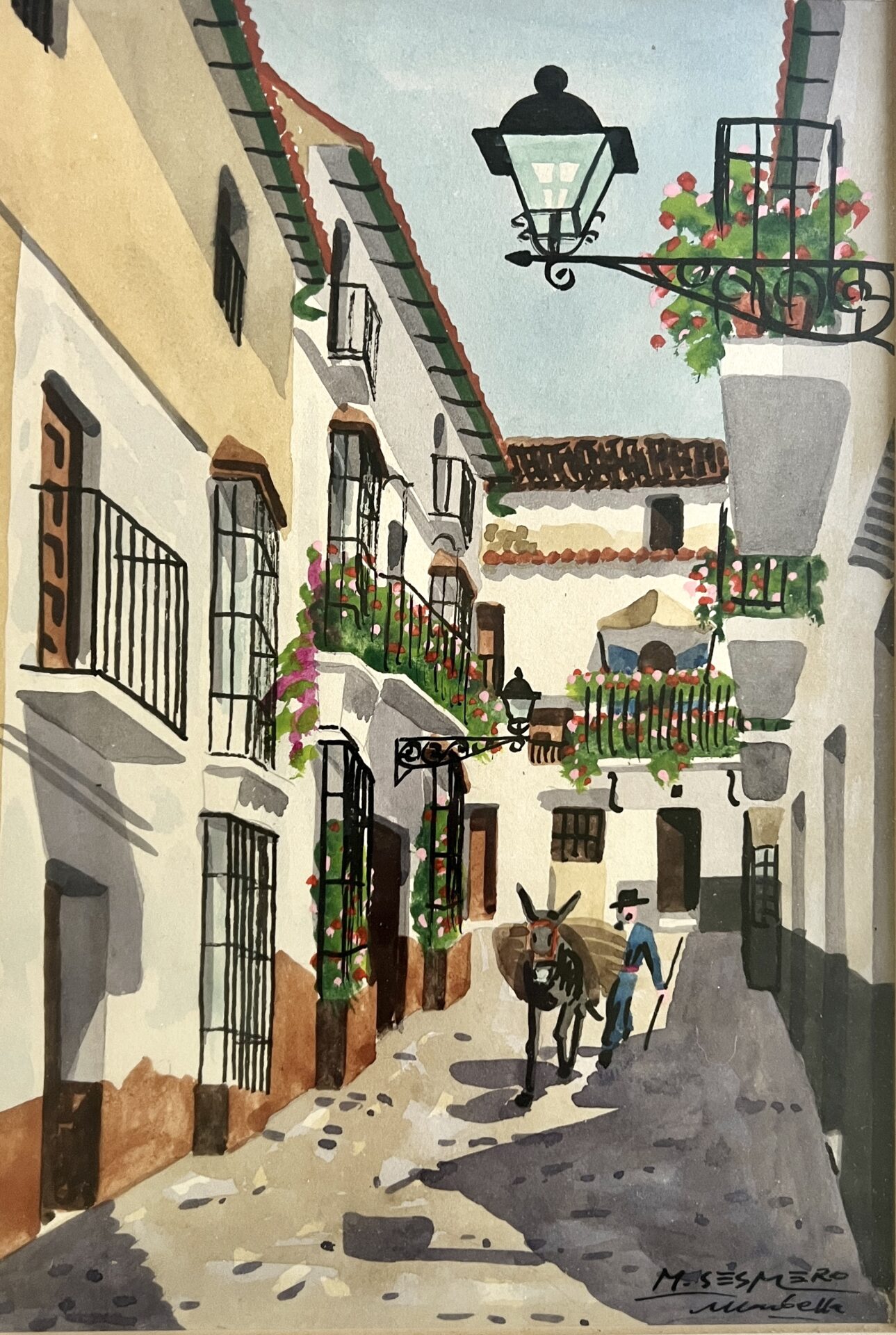 Preview Sale – Friday. March 24. 12:00 pm – 2:00 pm. 
Public Sale :  Saturday – Sunday. March  25 – 26 . 9:00 am – 2:00 pm.  
Santa Barbara, California
When a home has long served as the center of a family's playfulness, curiosity, travels, parties, love of art, preservation of heirlooms, & a joy in acquiring the intriguing, that home naturally reverberates with rich stories, & invites you to lose yourself for an hour
or two in its possessions & memories. And when that home is a virtual mid century time capsule, all the better!
Set of vintage stoneware dishes by Franciscan in the October Autumn Leaves pattern, service for (12) with serving pieces, good estate condition. NOTE: made from 1977-1984, microwavable and dishwasher safe.
Items available for purchase include:
Dining Table, Vintage Weaving, Captains Swivel Barstools & Vintage Home Accents
,
Watercolor by Mariano Sesmero (Spain, 20th century), Spanish Street Scene. Provenance: purchased in Marbella, Spain, 1973.
Furnishings & Lighting
Mid century bent rattan swivel lounge chair,
rattan cocktail table, round tiered rattan glass table with stacked serving stations, long rattan shelving console cabinet, (shop this rattan collection plus the vintage bar to build the perfect Tiki cocktail entertaining room!), wonderful mid century 3-section, wall mounted shelving unit with hanging cabinets and drawers (a true mid century room focal point), 3-seat sofa in cream and sand tweed with matching lounge chair, handsome oak refectory trestle table, twin maple beds with head and foot boards, king sized bed caned headboard, maple dining table with extensions and drop leaves – it goes from petite to grand! – with 6 chairs, maple 10 drawer dresser with mirror, 5 swivel "captain's" style barstools, Drexel 3-drawer buffet/server with pullout shelf, wonderful mid century Drexel "Esperanto" side storage table with lattice doors, 3 shelf open bookcase – great for a small space, matching and tasteful hardwood curved coffee table, oval table with caned shelf, and side table, versatile wood padded seat bench, wall mirrors both framed and unframed – round, rectangular, and etched, plus pairs as well as single tall, mid century table lamps in brass, stone, stoneware, and glazed ceramic, (perfect accents for that 1960s wall shelving unit!)
TREASURED FINDS:
Shop a vast collection of vintage & contemporary barware, cut crystal & art glass.
 

The extravagant mid century bar collection includes novelty liquor bottles like you have never seen, decorative bar touches, an amazing, large collection of Cyrus Noble Mine miniature whiskey bottles in painted bisque people shapes, each different! And every variety of mid century bar glassware: pilsner glasses, vintage beer mugs, martinis, 4 different sets of mid century decorated highballs, tall green tumblers with pitcher for summer refreshers, plus utensils, tools and coasters.
Oil on canvas by Lois Bennett, Pacific Grove Coastline, dated 1965, artist information verso
Items available for purchase include:
Four Panel Chinese Screen, Oak Trestle Table, Mid Century Artwork, Ginger Jar & Octagonal Side Table
,
Clothing, Accessories, & Jewelry
Absolutely breathtaking selection of the finest ivory and cream Victorian clothing: gossamer-like christening gowns, shifts, dresses, child's clothing, amazing decorated
slippers, plus an elegant cream satin wedding gown from the early 20th century with veil and headpiece, and more!
Vintage beaded purses, silk scarves, delicate handkerchiefs, lovely vanity table decorations, handsome burlwood 4 drawer jewelry chest, mid century wooden "butler" stand, plus fine as well as fashion jewelry.
Shop a wide variety of costume, sterling silver, & one-of-a-kind handcrafted jewelry
 

Found Only at Treasured Estates!
 

Softgoods:

Vintage kitchen linens, tea towels, napkins, placements, aprons, tablecloths, handmade quilt, holiday decorative linens, Native American rugs / weavings, vintage bedding, stacks of towels in every color, assorted small vintage handwork linens.
 

 

Collection of (4) sketches by David Villasenor (1967-2007), Active Cacti Series, framed and glazed, 8.5″ x 11″, dated 1938 / 1940, good estate condition.
Items available for purchase include:
Amazing collection of bentwood Mid Century rattan, vintage stereo components, artwork & curiosities
,
Kitchen & Bar
The kitchen is a world unto itself! Beautiful boxed set of Gorham sterling silver flatware
for 8, two sets of fine Noritake china ("Marguerite" and "Prelude"), Franciscan Ware stoneware "October Autumn Leaves" service for 12, with tea service, set of Stangl Pottery "Bittersweet", Paden City Pottery, Lifetime China Company, Austrian Imperial China, plus those sought-after vintage Corning Ware covered casseroles, roasters, bakeware and cookware, all manner of trays, small appliances, utensils, Roseville
American pottery planter (gorgeous filled with live plants, in any room!), hand blown Mexican wine glass set, a grand and delicate set of etched stemware in 5 different shapes and sizes – such fun to drink from! Have a soft spot for vintage kitchen goods? Vintage
molds, glass bottles, coffee percolator, mood-setting vintage linens of all kinds, cast iron, rolling pin, old style egg beater, scoops, pitchers, punch sets, tins, teacups, the iconic kitchen chair with pull-out step stool like your mom had, polished stainless coffeemaker set on tray, vases, and cookbooks, all from an era past. Where practicality meets design, a little 60s kitsch, and a lot of color!
Set of Noritake china in the Prelude pattern with service for approximately 12, with serving pieces.
 

Selection of potted plants & classic cement birdbath
The Practical & The Curious
Vintage Underwood "Deluxe Zig Zag" sewing machine with case and manual, vintage Royal "Magic Margin" manual typewriter, vintage Admiral Solid State flip-up turntable and sound system / radio, vintage "The Fisher Heritage Series" speakers, early Bose CD / radio unit, antique and vintage cameras and equipment, selection of vintage binoculars, vintage radios, calculator, desk lamp, tape recorder, slide viewer, tall wood tripod and small metal camera tripod, Ion turntable, plus good selection of mid century vinyl records, and large collection of swing era vinyl sets, plus numerous current and practical office items such as shredders, printer, monitor, oak desk and office chair, and numerous supplies, plus Sony Energy Star TV. Antique and vintage books including elaborate 19th century bible, dozens of interesting vintage board games, charming vintage scrapbooks, newspapers and journals. Useful hand tools and practical household outdoor items.
Art & Décor
F
ramed art: local, regional, European and Latin American in water colors, oils, photos,
sketches, and prints – landscapes, portraits, still lifes, seascapes, wildlife, and tropical scenes including accomplished artists such as Lois Bennett, Mariano Sesmero, and 4 fine sketches by David Villasenor.
Asian painting on 4 panel screen of lush floral still-life, plus 5 mid century Chinese "mud men", set of lovely reproduction Ming Dynasty cinnabar-style high-relief plates, Asian decorative figures and glazed pottery, ginger jar, and vases. Native American pottery, and a charming collection of owl figures in a variety of sizes, styles and materials. Do you know an owl lover? We do!
 

Feika, Chicago, Style #57/504, for Paulson Studios of

 

vintage records, stereo components & turntables
Share Favorite Estate Sale Finds 
There Is Always More to See!
A Special Coupon for our Loyal Customers 10% Off One Item
Valid through
Mar 25, 2023
733 N. Ontare Road . Santa Barbara
Watch For Sale Attendees,
Treasured Estates is back for an extended
estate sale event featuring the contents of several prominent estates. Join us in the charming downtown corridor of Solvang for a capsule collection of furnishings, décor, jewelry, clothing, artwork, antiques, vintage treasures , home & garden offerings, and one-of-a-kind estate sale finds!
A boutique real estate brokerage with a team of agents, designers & strategists dedicated
to the 
success of each client!
100 Den Street, Los Alamos
1056 Cinnabar Court, Santa Maria
290 Bradley Avenue, Morro Bay
601 Aqueduct Way, Morro Bay
(805) 688-7960 . (805) 451-3999