VIVA FUNDRAISER ESTATE SALE
November 4, 2021

-

November 6, 2021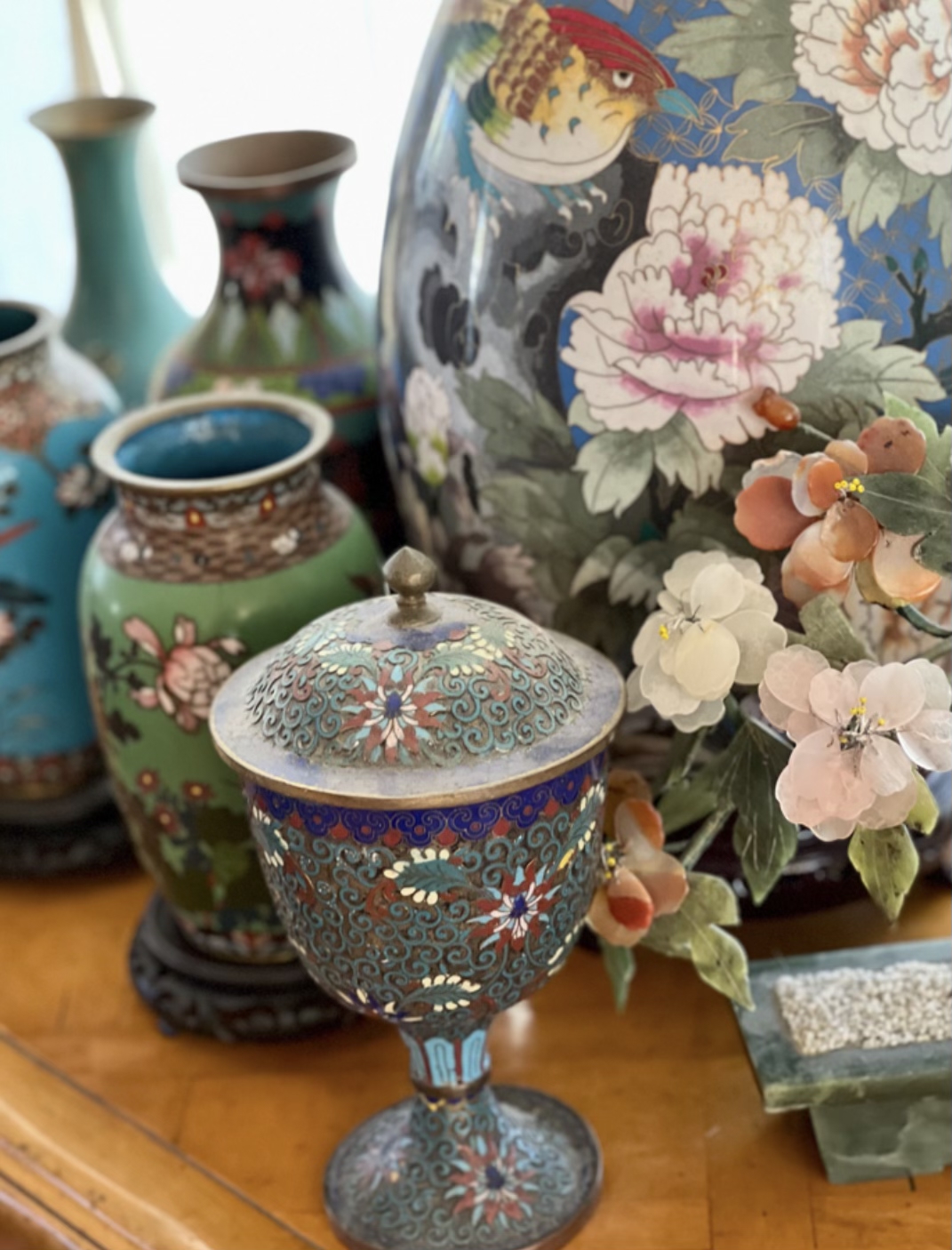 ____________________________
An Estate Sale to Benefit
INTER-VALLEY ANIMALS (VIVA)
Providing a better life for animals in our community
4675 Titan Avenue, Lompoc
for a sophisticated but casual Estate where
quality, beauty & comfort collide to create an unexpected treasure hunt with exceptional finds!
Due to the remarkable generosity of one of VIVA's supporters, all proceeds from the sale of this estate's contents will directly benefit VIVA and its life-saving work!
VIVA is actually 3 feline rescue & support facilities:
the cage free, no-kill VIVA Shelter for cats (which includes
a cat boarding facility), a Feral Cat Sanctuary on 6 acres, &
Sylvester House, a Retirement Home for cats. VIVA has served
our area for many decades, from back in the days of Cram's Hardware store.
FOLLOW US ON FACEBOOK & INSTAGRAM
There is more to see! Watch our stories for highlights!
TRADITIONAL ASIAN VINTAGE FURNISHINGS
:
The perfect "layering" pieces (many in rosewood) to add interest to a traditional or a contemporary home: a "just right" round-to-oval dining table with extensions and 8 chairs; a petite coffee table with curved ends; console tables; round carved side table with curving legs; carved Ancestors Chair; tall plant stand with marble top; ebonized hand painted trunk; delightful set of nesting tables, plus other accent tables; Asian painted "fishbowl:" large decorated porcelain "egg" on stand; 3 striking Asian cabinets: a tall lighted glass and wood china cabinet, a small cabinet/chest with drawers and cupboard, and a tasteful side table with scrolling sides – all decorated with traditional Chinese brass hardware.
Discover Dynastic Décor
. . .
where charming rooms imbue a true sense of worldly style anchored by fine Asian Antiques & California charm.
Capt. Brown, a retired USAF nurse practitioner and committed cat lover, generously bequeathed this estate, both the real and personal property, to VIVA to reflect her own gratitude for the many decades of challenging rescue work that VIVA has offered to its community. VIVA, a 501c3 charity, is deeply grateful for caring donations such as this, and Treasured Estates (whose members have several VIVA cats) is honored to be asked to help VIVA convert this gift of property into to food, support, and medical care for homeless cats!
DECORATIVE ARTS:
Two fine Asian paintings, each on hinged silk panels; late 19
th
c. carved "kitchen clock;" nice selection of lamp styles: floor lamps, crystal, glass, and ceramic table lamps, antique boudoir lamps (lovely on a vanity!) – vintage, traditional and contemporary; antique carpets in various sizes, colors, and periods throughout the house; gilt faux-bamboo wall mirror; glass Vitrine; pairs of candlesticks, bookends, carved figures in porcelain, stone and wood; handsome tabletop stone horse sculpture; Hollywood Regency style antique vanity pieces – vanity tray, glass jewel box, and cosmetics box;
pottery both Native American and Chinese, semi-precious gemstone decorated chests and jewelry boxes, inlaid tables, hand painted porcelains, and objet d'art of many kinds.
EASTERN ACCENTS ABOUND:
Fine art & décor from the Far East blended with genteel American antiques from 2 generations past, with a splash of modern furnishings and practical items.
More than just a pretty find . . .
Estate Sales power a circular economy that's better
for our planet! Shop one-of-a-kind, sustainably
chic vintage finds online or in person at Treasured Estates!  
Cloisonné – An Ancient Decorative Artform
An Ancient Decorative Art, 5,000 Year Old
Cloisonné
began in the Near East and spread to Europe, China, and South Asia. It was originally created to embellish metal objects such as jewelry, weapons, & religious objects with colored glass or gemstones, which would be painstakingly cut to fit, and held in place (and held apart) by tiny metal wires or fine metal strips, usually of gold. First the wires or strips were attached / soldered to the base, creating tiny compartments ("cloisons," in French) which were part of the visible design. The later cloisonné enamel technique fills the cloisons with colored enamel powder which is then fired in a kiln. Painted enamel on copper, also called "Canton enamel," may be confused with cloisonné, but is an imitative technique with no partition detail. The Japanese became famous for their cloisonné of high technical quality from 1890 to 1910, the "Golden Age" of Japanese enamels, although cloisonné tracks back to ancient Egypt, Mesopotamia, Scythia, Cyprus and Byzantium!
MORE ABOUT
VIVA
:
VIVA operates a no-kill, cage-free cat shelter in Lompoc that houses between 100 – 150 cats and kittens in open rooms and enclosed patios furnished with climbing trees, cuddly beds and cubbies in a warm and loving environment.
THE BAR IS OPEN
:
Fascinating collection of vintage, colored & cut crystal barware, decanters, tumblers & accessories! Restock your collections or find the perfect hostess gift!
Choose from a selection of Asian watercolor screen panels, oil on canvas with gorgeous still life, vintage etchings, and landscapes in many sizes and styles.
FURNITURE:
Two distinctive bedroom sets: one clean and contemporary lines with queen headboard, pair of bedside cabinets, an entertainment cabinet with drawers below, 8 drawer dresser with mirror; the other, a lovely antique satinwood set with delicate carving and fluid curves: a gorgeous vanity and mirror, a small bench, bed and dressers; a selection of mahogany book cases, 3 different tall display cabinets of wood and glass, in green polychrome, vintage oak, and gilt wood, plus an unusual open display stand; baker's rack in black iron and brass; antique milk can; wonderful mid-century radio cabinet with Magnavox radio; large rustic steamer trunk with so many creative roles to play; cream polychromed shelving case.
MORE ABOUT
VIVA
:
VIVA also maintains a Feral Cat Sanctuary in the hills outside of Lompoc. When feral cats have been trapped and neutered, if there is no appropriate feral colony for them to return to, they may be placed at the sanctuary. It is a six-acre secure enclosure that is shaded with oak trees, and features many feeding stations. To offset the expense, the cats can be sponsored for $25 per month.
ARTFUL & UNIQUE:
Decorative porcelains in all sizes, a pair of tall hand painted ceramic urns on stands; decorative
silk throw pillows, enamelware & cloisonné – urns, boxes,
bowls, and containers – such variety of periods, types
& shapes – the perfect bespoke gift!
COLLECTION OF ART METALS:
art metal including vessels of all shapes and sizes – pitchers, vases, serving pieces, braziers, implements, elaborate metalwork, copper, early copper and brasses with hand forged handles and gentle "wabi-sabi" type beauty – true works of art that would decorate a kitchen in the most lovely way.
EXPLORE KITCHENWARE
:
Shop a full set of Rosenthal "Golden Wheat" china; blue and white set of Japanese "Blue Danube" china; quality vintage barware ranging from decanters and liquor tags, to cocktail glassware, picks, and utensils; the cookware of a fine baker and cook; flatware, serving pieces, small appliances, wall-mount pot rack, and an array of utensils, including wonderful vintage items. 
Offering exquisite finds and story worthy rarities available only as long as they last…
THE USEFUL:
 Patio furnishings, pots & statuary, Flexbike Ultra stationary cycle, fine fabrics, good selection of home, bed and dining linens, a LOT of games and puzzles – stock up for holiday company coming; quality women's clothing; holiday décor just in time, fascinating books from antiques to modern "coffee table" books, a washer and gas dryer, power tools, table saws. 
MORE ABOUT VIVA:
VIVA also operates Sylvester House, a retirement facility for older cats whose owners have either passed away or who can no longer care for their cats. There is a one time donation of $5,000 to place a cat at Sylvester House where the cat will live out its life with full care.
Please park safely and respectfully with regard to both
sale attendees and neighbors.
Masks required at all times during this event!
An Incredible Selection of
Fine & Estate Jewelry Just in
Time for the Holiday Shopping Season
We make shopping for gifts, jewelry, furniture, artwork
and décor simple & streamlined! Shop our exclusive Virtual
Estate Sale Events right from your own device & we will provide a full service, secure, trustworthy environment. Just click to Shop!
Two Opportunities to Shop The 
THE VIRTUAL SALE
: A curated selection of items available for immediate purchase, NOW online.  Buy now & pick up at The Pop-Up Sale!
SHOP IN PERSON:
 Make your selections in person & shop the entire collection. There is SO MUCH MORE to see at the Pop-Up Sale!
Plein Air Paintings, Contemporary Jewelry, Holiday Décor, Refreshed Clothing Racks & More!
1693 Copenhagen Drive, Solvang
A Special Coupon for our Loyal Customers 10% Off One Item
Valid through
Nov 6, 2021
Masks required at all times during this event!
About Offering Exceptional Estate Sale Events!
SAVE THE ESTATE SALE DATES
Friday December 10th 2021
December 11th & 12th 2021
Let the Holiday Shopping Season Commence! 
Featuring the exceptional contents of a magnificent Santa
Ynez Estate. Endless beauty from contemporary to old world provincial treasures!
Featuring the contents of a unique Solvang winery
retreat filled with Art & Crafts era furnishings, farmhouse inspired décor & collectibles, and vast garden offerings!
THE RIGHT TEAM MAKES ALL THE DIFFERENCE
A boutique real estate brokerage with a team of agents, designers, & strategists dedicated to the
AT THE HELM
Treasured Estates Premier Properties is headed by our very own Shannon Collison, Realtor CDRE 00498188, Member, National Association of Realtors, California Association of Realtors, Santa Ynez Valley Association of Realtors, Santa Barbara Association of Realtors.
THE DREAM TEAM 
By merging our exceptional estate sale services with Shannon's residential properties experience, we offer the client local market expertise and unique services to optimize the market positioning of the properties we list for sale. 
EXCLUSIVE BENEFITS FOR BUYERS & SELLERS 
We offer a dedicated in-house marketing team that provides professional staging and photography to make your property look its very best. We simplify the process with complementary curating and customized personal property management. Receive preferred rates with a number of our home design providers.