LOS OLIVOS ESTATE SALE
September 17, 2020

-

September 20, 2020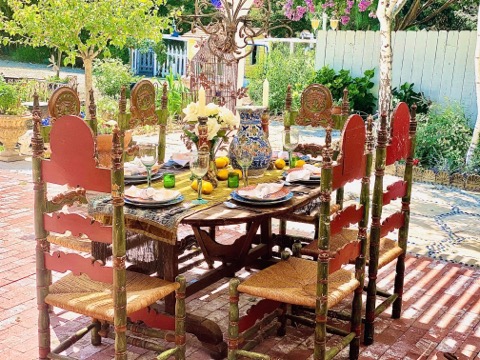 Private Preview Sale: Friday, September 18th, 12:00 pm – 2:00 pm
Public Sale:  September 19th & 20th, 9:00 am – 2:00 pm
2354 Olivet Avenue, Los Olivos
The entire contents of this remarkable hidden gem offered for sale! Grand furnishings, kitchen, dining, craft, sewing, garage, and tack rooms filled to capacity! Fine artwork & decor, impressive garden and patio choices, ranch fixtures, designer clothing and all accessories by the hundreds.
Masks required for entry.  Attendance monitored & limited for social distancing.  Shop the main residence, several outbuildings, garages, large garden,  patios, and outdoor areas.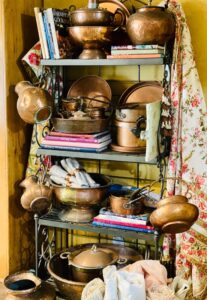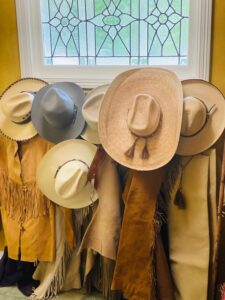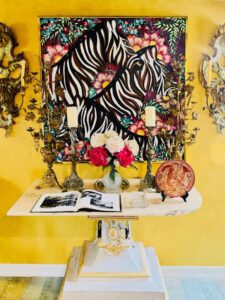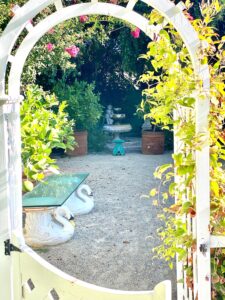 September 18th, 19th & 20th 2020
_________________________
SHOP IN PERSON WITH SOCIAL DISTANCING GUIDELINES
Welcome to a magnificently appointed home,
furnished patios, elegant formal gardens, charming
and the attached & detached
garage buildings of this impressive,
tucked away estate behind an inconspicuous gate.
Where Past & Present Offer Infinite Potential.
Oil on Board by Dirk Foslien (20th century),
Alamo Pintado Road, Signed, Numbered, Titled Verso.
PROVENANCE: THE ABERCROMBIE COLLECTIONS
FEATURED ITEMS AVAILABLE AT THIS EVENT
EVERY BIT A PIECE OF HISTORY…
NOVEMBER 1979 ISSUE OF ARCHITECTURAL DIGEST.
From the Constantia wine region near Capetown, South Africa,
early 20
th
century, to the 1930 creation by Chicago
architect Ambrose Cramer of the famous "Constantia"
Dutch Colonial Revival mansion in Montecito, highlights
from the Abercrombie family
collections are alive and well in Los Olivos! 
Oil on Canvas by Mara Abboud (born 1949), Zebras.
ENGLISH AND IRISH ANTIQUE PINE FURNITURE: An utterly charming distressed pine low apothecary chest with 12 drawers, and a larger style dresser with 15 generous drawers in 4 rows – a statement piece wherever you use it, handsome antique pine highboy dresser, a wonderful tall pine bookcase / collector's cabinet with glass doors, an open bookcase with 6 long shelves and an elegant galleried top shelf, versatile antique pine writing table / vanity with drawers, large antique scrubbed pine domed chest, Irish pine farm table, and a grand storage cabinet with 4 paneled doors, 3 deep drawers with an arabesque carved crown. 
PROVENANCE: THE ABERCROMBIE COLLECTIONS
FEATURED ITEMS AVAILABLE AT THIS EVENT
MODERN FURNISHINGS: A winter white velvet Chesterfield sofa blends effortlessly next to a console table in grey with gold detailing, a petite carved settee with rush seat, handsome queen iron bed with padded linen head and foot boards, and entire office of handsome off-white, near new Ballard Designs office furniture – large corner desk with inset file cabinets, desk top organizer, and a large and medium sized bookcase / cupboard with plenty of shelving and drawers, a Belleeze tall backed off white office chair, two country style pine tables, one with 4 distressed Windsor style chairs, and a well-proportioned iron storage / baker's rack, and a burl wood round library table over intriguing iron dolphin base with two leather library armchairs. 
PROVENANCE: THE ABERCROMBIE COLLECTIONS
FEATURED ITEMS AVAILABLE AT THIS EVENT
PROVENANCE: THE ABERCROMBIE COLLECTIONS
FEATURED ITEMS AVAILABLE AT THIS EVENT
LADIES' CLOTHING & ACCESSORIES:
Two huge walk-in closets plus a third bedroom closet and several
free-standing racks are completely filled with quality casual wear from well-known brands. Outerwear abounds – jackets and vests, sweaters,
and down coats, wraps and layers galore, from the handsome and practical to the elegant or whimsical. Fine formal, designer,
and cocktail attire and accessories! Shoes and boots were a passion and it shows! Many pairs of tall fashion boots, near new Uggs in pastel colors, sandals and slippers and sport wear and ankle boots by the dozens, almost all size 8/8.5. Shelves laden with handbags, small and large, dressy and casual. Baskets and baskets of scarves in every
color and texture, from silks and cashmeres, to colorful spring scarves. Dozens of cubbies are stacked with cashmere sweaters in beautiful colors and many styles. A cashmere lover's heaven! Are you a hat person? These closets and bedrooms are fully arrayed with fine hats, felted, straw, wool, and canvas, from the airy, feathery, and whimsical to the tailored and tasteful, all with hat boxes! Belts? Jeweled, silver,
handmade, designer labels, metal, suede, delicate, oversized statement belts, name a color…baskets and baskets filled with out of the ordinary belts. Sunglasses and eyeglasses in famous designer names and an array of styles. We have rarely seen women's fashion selections this vast and deep!
PROVENANCE: THE ABERCROMBIE COLLECTIONS
FEATURED ITEMS AVAILABLE AT THIS EVENT
Reed and Barton Sterling Silver Tea Set
Oil on Canvas by Thompson Pritchard (1878-1962),
OFFERING EXTRAORDINARY EVENTS DURING UNPRECEDENTED TIMES
Social Distancing & The Estate Sale
Stronger Together. Safely Apart.
COVID-19 Safety Procedures For Attending Treasured Estates Events
PROVENANCE: THE ABERCROMBIE COLLECTIONS
FEATURED ITEMS AVAILABLE AT THIS EVENT
GRAND ESTATE PIECES AND ANTIQUES: Harvest dining table surrounded by 6 early Andalusian style dining chairs – exquisitely polychromed and hand carved, an early Baroque hand painted Chinese red secretary of grand scale and detail with a captivating interior, an early English tall case mahogany clock with painted face and 8 day movement, an unusual Tiffany & Co. mantel clock, highly decorated and embellished with ormolu, a Louis XV style Chinoiserie French bombe commode, early antique settee carved in the Renaissance style with original gilt thread upholstered seat, an antique prayer bench / kneeler with drawers and bible storage box, antique Spanish Colonial Revival style hair-and-hide "throne chair', a stunning antique arm chair upholstered in crimson Scalamandre fabric, monumental pair of Italian gilded bronze columnar lamps, a striking vintage Mandarin inspired red lacquered altar table, a pair of estate size Italian porcelain handpainted lamps on gilt bronze bases, a table full of wondrous, rustic antique hand carved and decorated Santos – images of Jesus, Saint Anthony, Saint Francis and other beloved crowned religious figures as well as religious artifacts and plaques, a tall curvy burl-veneered, glass front display case on cabriole legs with silk interior, an inlaid folding games table, and a fine Italian carved, gilded and painted antique bed and an impressive canopy style four poster bed with twist columns.
IN THE TACK ROOM: In the estate of a devoted equestrienne expect to find a vast selection of English & Western tack, jumping saddles, blankets, sheets, covers, fly masks, grooming supplies, and quality equestrian gear.  
Antique Oil on Canvas, Portrait of Lady in Black Dress.
PROVENANCE: THE ABERCROMBIE COLLECTIONS
FEATURED ITEMS AVAILABLE AT THIS EVENT
What is a fine estate without a love of FINE ART? Every room is brimming with glorious paintings from oversized, colorful Mara Abboud zebras, to fantastical large animal portraits of parrots and a still life with monkey (elegant in the midst of fine antiques!), a Dirk Foslein oil painting of an Alamo Pintado spring landscape, a gorgeous G.T. Pritchard winter landscape in carved frame, an R. J. Carnahan oil on board of water lilies that is utterly soothing, a hand colored etching by Louis Icart of Lady with Dogs, and elegant antique works such as three skilled but unsigned large portraits, and three masterful oil paintings by Jean-Richard Goubie of lovers and their horses.
PROVENANCE: THE ABERCROMBIE COLLECTIONS
FEATURED ITEMS AVAILABLE AT THIS EVENT
Oil on Canvas by Jack Baker (1925 – 2011), Parrots.
TEXTILES & LINENS: Featured throughout the home and cottage including fabrics, fine tablecloths, runners and napkins – both antique and new – window coverings, stylish decorative pillows, bedding, shams, quilts, duvets, hanging tapestry, oriental embroidered wall hangings, and handmade antique pieces.
Acrylic on Canvas, Signed by Artist Carbonari C.,
AN ENCHANTING CRAFTING COTTAGE: The back of the garden is filled with creative and decorative items. Bolts and remnants of high end fabrics, countless rolls of costly ribbons, fringes, and trims, plus beads, stained glass, a dollhouse and miniature furniture models still in boxes, a dressmaker's form, baskets, décor, art, and a 1940s black and a 1960s white Singer Feather Weight sewing machine each with its original case, plus a Huskylock overlock sewing machine and a Singer Limited Edition sewing machine.
THE GARDENS: Reflecting a passion for beauty the patios and grounds overflow with fountains, statuary, bird houses, architectural remnants, antique pie safe cupboard, whimsically painted potting bench, antique chests, a fabulous rustic hand hewn console table, iron and brass baker's rack, antique wooden ceiling drying racks, lanterns, chimes, plaques and vintage signs, a gorgeous set of 4 chairs and 2 settees – creating the perfect conversation space – of heavy antique iron polychromed white in neoclassical style, chaise lounges, a grand upholstered plush lounge in taupe and cream, benches, colorful iron nesting tables, large pots with mature plants, animal figures, garden shelves…charm and creativity everywhere you turn.
FOR THE PRACTICAL…Two garages are overflowing with things practical and seasonal. A LandRider bicycle, doctor's scale, drill press, bench top scroll saw and table saw, circular saws, drills, hand tools, tabletop gas heater, stereo components including Klipsch, Sony and Panasonic, camping and outdoor event gear of many types including a Kamprite Tent-Cot and Quickshade folding canopy, fans and room heaters, a Teeter by Hangups inversion table, most of one wall filled with winter holiday décor, and find dozens more useful supplies and luxuries for the Santa Ynez lifestyle. 
SAVE THE ESTATE SALE DATES
DESIGNER. CONTEMPORARY. TURNKEY.
Featuring the collections of a well-appointed Solvang residence. 
PURCHASE ONLINE & PICK UP CURBSIDE
Sale Open to Treasured Estates customers only!
Wednesday, September 16, 2020 
Featuring the vast collections of a prominent
family including their private residence
and 2,000 square foot barn / warehouse,
and surrounding landscapes. An estate
filled with contemporary designer furnishings,
worldly collectibles, incredible
architectural salvage, garden & farmhouse déc
or.  
Safety
is the New Normal! 
Stronger Together. Safely Apart.
COVID-19 Safety Procedures For Attending Treasured Estates Events
We are excited to see our customers…
Here's how we plan to do it safely with the
Santa Barbara County requirements:
Please do not attend if you have had symptoms, or have been with others who do, in the past 14 days.

 

Desperately looking for something? Send a friend and we'll help them find it. (Hint: ask them to place a FACETIME call to you from the sale, and reverse the camera view to chat and share their live walk-through!)

All customers 13 years and older must wear a mask that covers the nose and mouth

(per published May 26 SB County Medical Officer order)

,

from the time you arrive until you leave

– preferably one that attaches behind the ears. 

Six feet of social distancing is required,

especially when

standing in line to enter

and when

waiting in line to check out

. 

Respect personal space while shopping and packing. 

Entry may be controlled to avoid overcrowding.

Other suggested protocols

(similar to those in grocery stores):

Wash hands before arriving and after leaving.

Come alone, if possible.

Touch items only if necessary.

Bring hand sanitizer with you, if possible. (Shortages may prevent us from having enough for everyone.)
A Special Coupon for our Loyal Customers 10% Off
Valid through
Sep 19, 2020
Your copy should address 3 key questions: Who am I writing for? (Audience) Why should they car
_____________________________________________________________________
THE RIGHT TEAM MAKES ALL THE DIFFERENCE
A boutique real estate brokerage with a team of agents, designers, and strategists dedicated to the
_____________________________________
AT THE HELM
 Treasured Estates Premier Properties is headed by our very own Shannon Collison, Realtor CDRE 00498188, Member, National Association of Realtors, California Association of Realtors, Santa Ynez Valley Association of Realtors, Santa Barbara Association of Realtors.
THE DREAM TEAM 
By merging our exceptional estate sale services with Shannon's residential properties experience, we offer the client local market expertise and unique services to optimize the market positioning of the properties we list for sale. 
EXCLUSIVE BENEFITS FOR BUYERS & SELLERS 
We offer a dedicated in-house marketing team that provides professional staging and photography to make your property look the very best. We simplify the process with complementary curating and customized personal property management. Receive preferred rates with a number of our home design providers.  
Spectacular contemporary farmhouse ranchette with panoramic mountain and vineyard views located just one mile outside of the town of Los Alamos and minutes away from Los Olivos. Private gated drive leads you to this serene hilltop home with 360 degree expansive views of neighboring vineyards and rolling hills. This home boasts a charming entry and opens to a well-designed open concept floor plan, with three bedrooms and two full bathrooms, each with vaulted ceilings and tons of natural light from picturesque windows. The high ceilings add a sense of generous scale to all the living spaces. The chef inspired kitchen is a dream with stainless steel appliances, oak cabinetry, granite counter tops and a sun filled breakfast room with extraordinary views from each window. The en-suite master bedroom features its own bath, office retreat and walk-in closet. Surrounded by lush lawns, the patio areas provide the ideal space for relaxing and unwinding, or for wine country entertaining, while enjoying the breathtaking views of the San Rafael Mountains and Purisima Hills from the spa.

APPROXIMATELY 2,000 SQ FT

WELL DESIGNED OPEN CONCEPT

FORMAL LIVING ROOM WITH FIREPLACE

VAULTED CEILINGS THROUGHOUT

 

2000 SQ FT +/- CUSTOM WORKSHOP

1000 SQ FT +/- HORSE/HAY SHELTER

PRIVATE WELL W/5000 GAL TANK

SPECTACULAR PANORAMIC VIEWS