FABULOUS SOLVANG ESTATE SALE
October 6, 2022

-

October 9, 2022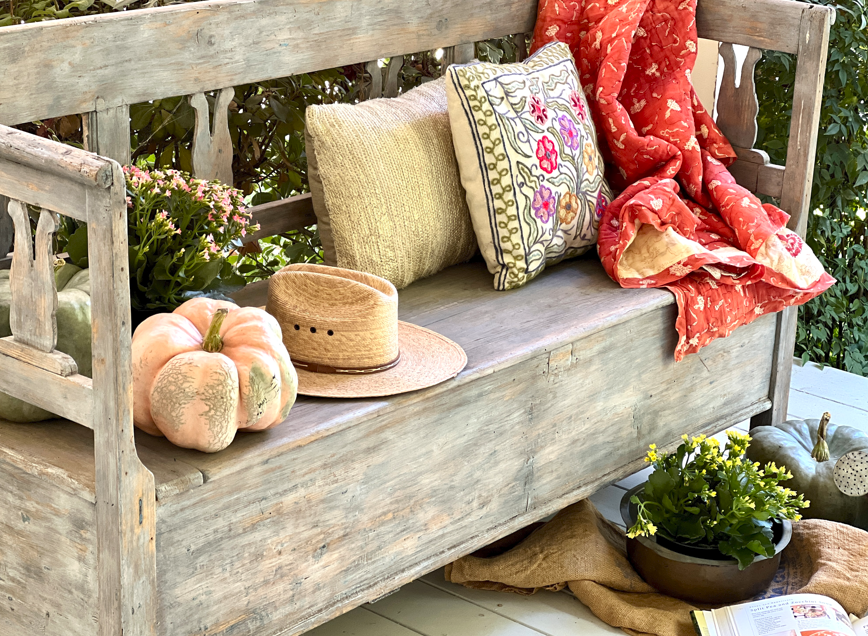 PREVIEW SALE
Friday. October 7. 2022
12:00 pm – 2:00 pm
PUBLIC SALE
Saturday & Sunday
October 8 & 9. 2022
9:00 am – 2:00 pm
Featuring the property of a prominent Estate filled with worldly collections that create a natural elegance inside & out!
An inspiring treasure trove of design
gems & iconic classic staples, sourced for
timeless aesthetic appeal & layered for originality & the chic comfort of home!
Shop Bright Ideas for the Autumn Season
Kitchen –
Vintage farm kitchen tubs, bins, crates, breadbox, utensils, tin cups, enamelware, and more – useful and drenched in nostalgia. Plus canisters, baskets, colorful vintage Pyrex storage, pitchers, kettles, molds, white dishware, flatware, stemware, barware (Moscow Mule, anyone?), bakeware and accessories, serving platters and trays, wood and bamboo boards, trays, copper and ceramic fondue set, numerous small appliances, collapsible drying rack and step stool, quality and vintage kitchen linens, and even some darling farm animal figures to keep things cheerful.
Sophisticated with Minimal Ornamentation
& Pure Lines, the Hallmark of
True Craftsmanship & Quality Design
CREATE AN INSPIRING SPACE
Beautiful Furnishing with a
Exceptional in Size & Craftsmanship
20′ x 14′ – a luxurious wool rug woven
to perfection in tones of chocolate
& highlights of green, butter & russet
Cozy Accents – 
stylish accent pillows, most in larger sizes in a vast array of colors and materials (instant season change or mini-remodel!), inviting throws in many colors for bed, chair, outdoors, or sofas; array of fine bed sheets, duvet covers, quilts, and blankets – including a classic Hudson Bay, many Pendletons, and numerous similar styles – coverlets, pillows, duvets, tablecloths, runners, tea towels, and vintage aprons. 
Ideal for a rustic retreat, daybed / lounger
tufted in chocolate suede
 Charming Mixed Media Collage,
"Black Dog", Signed & Dated 1999
Follow us on Facebook and Instagram
Combining Modern Elegance
with Comfortable, Country-House Styling
Collection of works by Christina LoCascio
 

Primitive Wooden Sculpture by
Furniture –
Handsome pair of RH linen slip covered sofas; simple and elegant hand crafted dining table & custom linen upholstered chairs; the perfect antique farmhouse table and chairs in rustic green polychrome; fun low profile 3-seat denim covered platform sofa; large inviting sectional with chaise lounge, in sand chenille; pair of long teak hand hewn benches for your best room or your garden; versatile plank style long server/console table; 2 charming polychromed vintage cabinets for any room in the house; large square RH wood plank and iron framed coffee table; 2 RH ebonized dressers, plus coordinating RH entertainment / display case; king sized bed with tall tufted linen headboard in mirrored frame plus luxury linens; Pottery Barn corner desk; Pottery Bran "Football" lounger/daybed in padded chocolate suede; antique handmade bench with lift seat storage; grand carved teak outdoor daybed; plush chenille armchair in autumn tones; 4 white bookcases of varying forms; black writing desk; silvered chest of 4 drawers; teak black "fur" topped stool; bamboo and canvas shelves and storage; linen vanity stool; white armchair with leopard "fur" seat; bamboo galleried side table; rustic iron and wood plank console table.
RESTORATION HARDWARE STAPLES
Pair of Down Filled Linen Covered Sofas
Reclaimed Oak Plank Top Cocktail Table
BEAUTY SLEEP AS AN ARTFORM
RESTORATION HARDWARE BEDROOM
Dressers, Media Cabinet & Tables
Shop Family Friendly Spaces
Decorated with Nature-inspired Motifs
Décor –
Mirrors! tall textural wood frame wall mirror, numerous small round accent mirrors in plain wood, gilt with carving and more, shaped unframed antique mirrors on chains; large round leopard print ottoman, tall modern floor vase and stems; framed movie poster; pair of gilt C-tables; mercury glass accent pieces; charming vintage iron mirror atop cream polychromed towel / garment rack; framed black and white art photos; monumental turned and polychromed candlesticks plus candles galore; hand-woven fiber art wall hangings, ethnic figure carvings and Buddhist altar figures. And Lighting – over 15 lamps for the table, buffet, boudoir, office, and floor lamps – made of pierced metal, iron, crystal, silver, ceramics, painted wood, shells, glass, and brass – all stylish and of varied moods and sizes… even a charming petite wood chandelier. 
Vast Collection of Children's Literature,
Crafting & Hobby Supplies, Toys &
& Games, Dress-Up & Halloween Costumes
2016 Polaris RZR 170 Voodoo Blue
Spotlight –
One of the best collections of children's books, games, puzzles, models, and toys we have encountered – many of them vintage, handmade, unusual, and super charming to both kids and adults, plus large array of art supplies and a wood easel; impressive large ceremonial drum in iron stand with deep bass sound, plus selection of percussion instruments, and Ashland acoustic guitar in case. Three vintage western saddles including child's saddle, selection of chaps, vintage equestrian décor and poster art on tin, petite hand painted western leather pillows, cowboy hats, and pueblo style display ladder. Endless office accessories and supplies, white metal locker, white filing cabinets and office storage. Quality books – cooking, art, style, garden, history, coffee table books and more. Halloween decorations, holiday décor, both grand and small. Camping gear: a whole cabinet filled with tents, sleeping bags, air mattresses, kitchen items, lantern, accessories, and backpack…pack up & head for the hills!
An Estate filled with color, pattern & decorative details that capture the essence of a life well lived …
Naturally Stunning Teak Furnishings
Garden, Porch, Patio, & Pool –
Choose from the many contemporary, romantic, or stylishly rustic
accents to bring your outdoor life to a new level
– 
pair of enclosed outdoor wicker sun loungers with canopies, shade curtains, pad & pillows; wonderful pair of antique teak and rope opium beds; large modernist garden planters; weathered teak tables, chairs, benches & 3 sturdy quality chaise lounges, perfect for poolside; wine barrels, tall vintage wire birdcage, fire pits, wind chimes, garden figures, and a variety of galvanized tin items; outdoor Adirondack rustic bench, outdoor rattan set with L-sofa, glass topped table and stools; red Coca Cola cooler on tall legs; antique rusted iron washstand… creativity-inspiring pieces abound!
Forget supply chain issues &
Come shop an exclusive Estate filled with
endless wonders & unique offerings . . .
Found Only at Treasured Estates!
Shop the Entire Upper Floor of the Estate Filled with Fine Women's Clothing & Accessories
–
Shop the very best of European and American designers, plus specialty boutique items of superior quality, and your favorite casual designers in this large room packed with great fashion choices! Rack after rack of shoes and boots, handbags, scarves, belts, sweaters, jackets, hats, evening wear, lingerie, negligee, dresses, pants, skirts, tops – in silk, linen, leather, cashmere, and wonderful blends – including designers such as Versace, Miu Miu, Gucci, Paola, Pedro Garcia, Norma Kamali, Jimmy Choo, Prada, Helmut Lang, Faliero Sarti, Diane Von Furstenberg, Kate Spade, and more. AND…enjoy shopping the fashion jewelry and the fine jewelry, including a strong selection in sterling, exotic ethnic styles, and contemporary designs. Build entire ensembles – literally from head to toe! 
Free-Weights, Machines, Pilates Equipment &
 

Extraordinary Home Gym –

Rarely do we see a home gym this complete. Peloton Cycle, Precor Crosstrainer, Pilates equipment, ProForm Airflow resistance trainer, Century boxing "dummy" and Everlast boxing punching bag on stand, plus extensive boxing accessories, 2 weight lifting chair/benches, 3 tiered rack filled with free weights, other sets of weights for various machines, hand strengtheners, medicine balls, pushup grips, a multi-station weight machine with full array of options, leg machine, workout devices by Balanced Body, DB Method, and endless accessories that create a professional level workout experience. Pick your favorite or build your own gym from scratch.

 

 
Share Your Favorite Estate Sale Finds! 
A Special Coupon for our Loyal Customers 10% Off One Item
Valid through
Oct 8, 2022
We are passionate about offering
exceptional Estate Sale Events!
CAPTIVATING SANTA BARBARA
Featuring the contents of a beautifully furnished
quintessential Santa Barbara Estate!
Featuring the contents of a charming beach side retreat filled with vintage collections and unique offerings from an iconic Mid Century gift store that operated in Morro Bay!
F
riday. November 18th 2022
November 19th & 20th 2022
Featuring a capsule collection of unique estate offerings, seasonal decor, fine jewelry, couture & more! Let the holiday shopping season commence!
A boutique real estate brokerage with a team of agents, designers & strategists dedicated
to the 
success of each client!
4395 Kapalua Drive, Santa Maria
1512 Oakridge Park Road, Santa Maria
1823 Laurel Avenue, Solvang
975 Paseo Los Santos, Santa Barbara
2202 Point Sal Loop, Lompoc
512 E. Locust Avenue, Lompoc
EXPERIENCE, STRATEGY, RESOURCES
& THE FULL-TIME TEPP TEAM!
(805) 688-7960 . (805) 451-3999